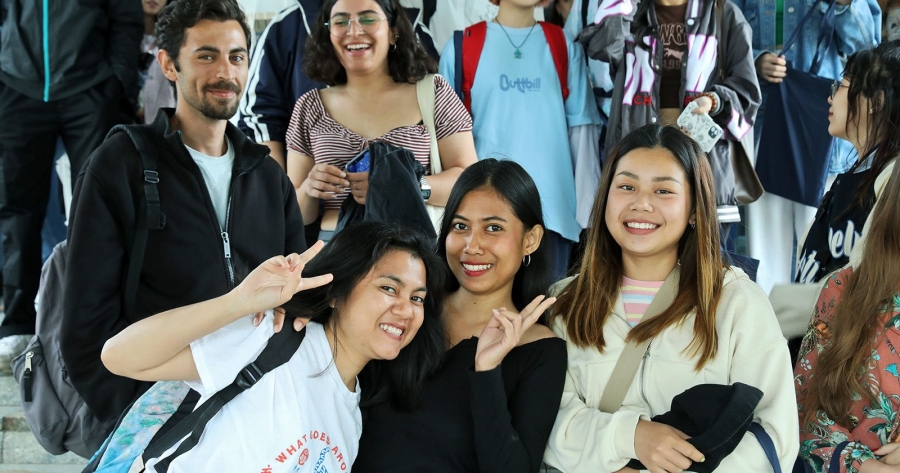 Students and PhD students from foreign universities have begun a two-week visit to Toruń as part of the 'Learn, discover, enjoy - Summer Camp at NCU' - a summer school organised by the Nicolaus Copernicus University in Toruń. The project includes three intensive international education programmes in English in a hybrid formula.
The proposal will be open to foreign students and doctoral students, in particular those from foreign academic units with which the NCU cooperates in terms of education, science and research, including universities affiliated with the Young Universities for the Future of Europe - YUFE.
Each participant in the summer school will take part in the activities, which consist of 60 hours of specialised teaching and cultural activities, as well as approximately 18 hours of specialist module attractions and 50 hours of cultural programme. After the week-long online course, a further two weeks will be spent in Toruń. The programmes are divided into three specialist modules delivered by all the faculties of the Toruń part of the University:
Humanities: Faculty of Fine Arts, Faculty of Theology, Faculty of Historical Sciences, Faculty of Humanities;
Social Sciences: Faculty of Law and Administration, Faculty of Economic Sciences and Management, Faculty of Earth and Spatial Management (socio-economic part), Faculty of Philosophy and Social Sciences, Faculty of Political and Security Studies;
Exact and Natural Sciences: Faculty of Physics, Astronomy and Informatics, Faculty of Mathematics and Computer Science, Faculty of Chemistry, Faculty of Biological and Veterinary Sciences, Faculty of Earth and Spatial Management (natural sciences part).
The project is part of the activities of the Nicolaus Copernicus University in Toruń included in the Strategy for the Development of the Nicolaus Copernicus University, which aims to increase the internationalisation of the university by, among other things, raising its international profile, attracting students and doctoral students from abroad, improving the quality of education and increasing interest in its offer, including programmes in English. Upon completion of the course, participants will receive certificates and 6 ECTS credits.
The Let's meet at NCU! project is being implemented as part of one of NAWA's SPINAKER - intensive international education programmes.